Our Team
Our staff of expert veterinary doctors and skilled vet assistants and technicians are ready to help when your pet needs us. Contact us today to learn more.
Megan Brandt
Practice Manager
Megan has been working at the St. Francis Veterinary Clinic since 2002. She has a deep love for all animals as well as the clinic and takes an active role as a member of the board of Tuff Start Rescue. She lives in Otsego with her husband and their six fur babies including three dogs (two French bulldogs, Madigan and Applebottom, and a boxer, Beast), two cats (Little Buddy and Bruegger), and a beloved foster kitty (Dart). In her free time, she loves to go searching for Agates, kayaking, fishing, shopping, and spending time with her friends, family, and pets.
Becky
Becky has been working here at St. Francis Vet Clinic since 2004; she definitely enjoys working with our clients and their pets.
Becky has been employed at St. Francis Veterinary Clinic for 13 years in client service. She loves working at a clinic that cares so deeply about the pets that come for care and their owners. Her family includes her husband, five children, five grandchildren, and a cat named TC who is her special little buddy. She hopes to add a puppy to the growing family at some point in the future! In her spare time, she enjoys traveling, camping, fishing, and experiencing all kinds of new things.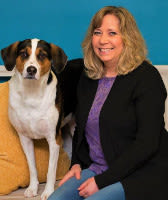 Sheri
Sheri started in 2003 as one of St. Francis Veterinary Clinic's client service specialists. Her love for animals is what compelled her into this field of work. She lives locally with her husband, Ray, and her two sons, Austin and Zachary. In addition, she has one dog (Shadow) and three cats (Jasper, Allie, and MiMi), all of whom she love to spend time cuddling with. In her time away from the clinic, Veterinary she enjoys spending time with her family and going for walks outdoors. Her favorite part of the summer is camping and boating in northern Minnesota.
Amy
Amy has been working here since the fall of 2017 as one of our Client Service Specialists. Since she was young, she has always had a love for animals and currently has a horse named Jackie and a cat named Charlie, Amy absolutely adores them both. When she is not behind the desk here at St. Francis Veterinary Clinic, Amy enjoys spending time with her fiancé and 3-year-old daughter as well as horseback riding and going to the casino.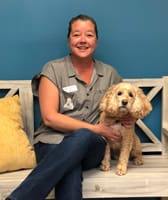 Cara
Cara is the latest addition to the Client Service Specialist team here at St. Francis Veterinary Clinic. She was a client of ours prior to her employment is very happy to be a part of our ever growing team. Cara and her husband Marc have been a long time residents of St. Francis. Although she currently doesn't have any pets of her own, she often cares for her mother's cockapoo Maya. She likes to think of her as her own fur baby. In her spare time she enjoys anything to do with nature and outdoors, including but not limited to camping, hiking, and 4-wheeling, gardening, and fishing.
Patti
Patti has been with the St. Francis Veterinary Clinic since it was first built and has loved watching the clinic grow and change over the years. She is very passionate about helping owners and their beloved pets receive the best care. Outside of work, Patti spends her time caring for her own pets as well as her husband. She has three dogs (two bassets and Ben, the best springer ever) along with three horses.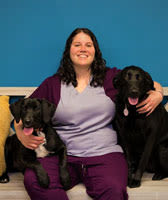 Bereen
Bereen has been a certified veterinary technician at St. Francis Veterinary Clinic for 5 years since graduating from the Minnesota School of Business with an Associate's Degree in Veterinary Technician. She grew up locally and always wanted to work at this clinic. When she is not at work, she enjoys spending time outdoors hunting, fishing, kayaking, snowboarding, and walking with her dogs. She has four cats (Missy, Smokey, Millie, and Baby) along with two dogs (Macy and Sadie) and a bunch of chickens.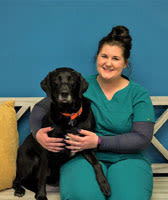 Brooke
Brooke is one of the veterinary technicians at St. Francis Veterinary Clinic. While she loves working with all patients, her personal favorites are the crazy, happy, and hyper dogs. Her motto is "the crazier, the better!" Brooke has loved animals ever since she was a young child and cannot think of a more rewarding career. In her free time, she enjoys spending time outdoors with her spoiled labrador retriever, Wilson.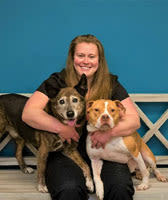 Sarah
Sarah graduated from the Minnesota School of Business with her AAS in Veterinary Technology in 2011. During this time, she completed an internship at St. Francis Veterinary Clinic before working at a small animal clinic in Roseville. She is excited to rejoin the St. Francis team. Sarah's professional interests include hospice and palliative care, geriatrics and pain management, behavior, and client communication and education. Sarah, her husband, Nick, and their daughter, Brooklin, share their home in the North Metro with four horses (Spritze, Ed, Mia, and Fox) two cats (Rocky and G), and two dogs (a Pit Bull named Carrma and a lab mix named Skyeller). When Sarah is not at the clinic, you will find her riding one of her horses or watching the Minnesota Wild play hockey.
Jodi
Jodi graduated from Argosy University in 2003 and has been working as a Certified Veterinary Technician ever since. Her special interests within the Veterinary field include surgery, emergency/critical care, preventative medicine and client education. After living in Ely for 6 years, Jodi has moved back to Ramsey with her furry family. She has an English Springer, "Robbie", a coonhound mix, "Addie", four kitties, "Isabelle", "Willie", "Ichabod" and "Danielle" and we can't forget her not so furry family member, her bearded Dragon name "Puff". When Jodi is not busy cuddling her fur babies she enjoys hiking, fishing, and snowmobiling.